Ford
CEO of Ford's Innovation Center: "The automaker may not be interested | Rare Techy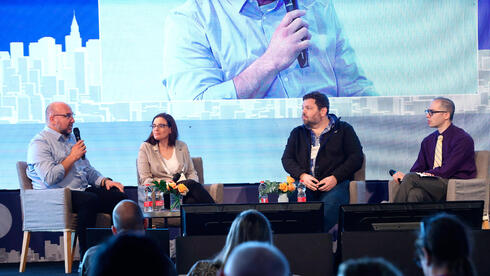 [ad_1]

"We're not reinventing the bus, we're making it smarter," Via Israel CEO Guy Sher said during a panel on transportation at Calcalist's Tech TLV conference. The panel was moderated by Omer Kabir of Calcal and included Gilad Barzilay, Managing Director of the Ford Israel Innovation Center, and Michal Frenkel, Vice President of Product and Strategy at Argus.
According to Sher: "In the last decade that the company has been operating in this smart public transport market, we have seen that there is a real need for technological solutions to improve public transport. We think that, especially in the post-corona era, the use of public transport has increased due to socio-economic problems, and solutions provided by technological infrastructure like ours will help make transportation more accessible.
When Uber came in, they promised to solve the traffic jams, but people just switched to Uber. Isn't that the case with Via?
"We are trying to transfer passengers to existing public transport. The idea is to bring the technology to a place where it can adapt to each case. We operate in more than 500 cities around the world and each city has its own needs and the ability to change parameters and make adjustments using data allows to transport more people with the same vehicle .
According to Michal Frenkel, vice president of product and strategy at Argus: "Each advanced vehicle goes through tens of millions of lines of code, sometimes even more than fighter jets. The world of cars is much smarter, connected and interconnected, and it must be In addition to allowing vehicles to communicate with each other, there is a huge amount of data – and that requires efficiency. I come from a different aspect of cyber security, because today the car is a computer on the road. This area requires optimization, and it's not a single vehicle, but a network of vehicles that needs to be coordinated and understood how to do it efficiently and safely , which is why the big data world is such an interesting vehicle, because it's an ecosystem. We'll see a lot of big data solutions in the coming years."
Gilad Barzilay, CEO of the Ford Innovation Center, added: "Data is the engine of growth. The automaker is not necessarily interested in solving traffic jams, but in selling data."
It is impossible to talk about smart transportation, without mentioning that the autonomous vehicle is almost here. When will this happen?
"There is a delay because the main question for automakers is when they can benefit from an autonomous vehicle, and it's not going to happen in the next 5 to 10 years," Barzilay said.
[ad_2]

Source link