Ford
Premier Ford 'push public system to collapse': Five biggest health unions join forces, make SOS appeal to save our public hospitals | Rare Techy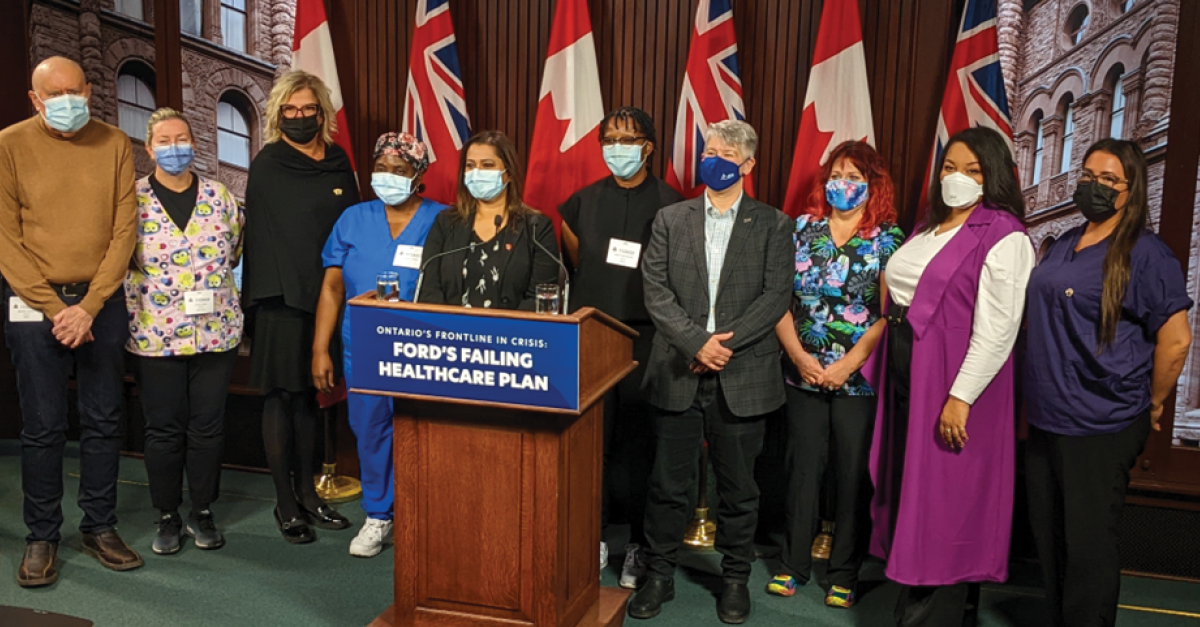 [ad_1]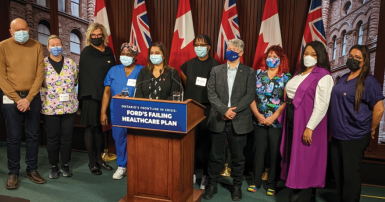 Ontario's five largest health care unions have joined forces to issue an SOS to Premier Doug Ford and Health Minister Sylvia Jones: Your plan is failing – take action and adopt our solutions to stabilize Ontario's collapsing health care system today.
The PC the "plan" fails miserably. Unions want the Prime Minister to discuss with them a meaningful, coherent and aggressive retention strategy. With employee turnover at nearly 15 percent, health care has been destabilized under Doug Ford's watch. Current PC approach displaces staff and marginalizes health care. Ontario hospitals must hire 47,000 staff to handle the turnover and care needs of an aging and growing population.
At a news conference Thursday, unions warned that after years of neglect, underfunding and a failure to improve staffing levels, the health care system is now suffering from severe understaffing, overcrowding, lack of capacity to jump and a proliferation of health problems. COVID-19, the large and early rise in flu and other respiratory illnesses.
Entire emergency departments are closed and pediatricians ICUs remain over capacity across the province, causing much suffering to families that could be prevented with a realistic plan to retain qualified hospital staff. Although frustrated, there are still hundreds of thousands of dedicated health workers working to overcome this historic crisis. If the Prime Minister fails to act immediately, many more on the front lines will break down from workload, exhaustion and his government's failure to respond to their plight and increasing patient care needs in what can only be described as a failure of leadership, blame the unions.
In October, five unions requested an urgent meeting with Prime Minister Ford and Health Secretary Jones to find a path to frontline-focused solutions. But after weeks without a response, unions say Doug Ford is openly ignoring frontline workers and patients and is actively pushing the public health system to collapse by doing as little as possible to sustain it.
With the province still in the grip of the pandemic and a staffing crisis, union leaders called it incomprehensible and cruel that Ford is refusing to cough up an extra penny to protect patients, including vulnerable children in intensive care. Citing last week's fall economic report, which found no new funding for health, leaders noted that Ontario currently has a $2 billion budget surplus and billions in unspent contingency funds and additional revenue. It would cost $2 billion to bring Ontario from last in terms of hospital staffing to the Canadian average.
The five leaders expressed serious concern that Ford is using the crisis to drive its costly privatization agenda and warned that a two-tiered health service would worsen staff shortages, waiting times and patient outcomes by competing for scarce workers and driving them out of the public eye. a system where wages have been cut.
Their message: American-style for-profit health care is not the answer to Ontario's health care crisis. Instead, Ford should listen to frontline workers and their unions and focus on immediate solutions to retain the overworked workers who keep our health care system running.
The unions are calling on the Ford government to take the following solutions:
Respect workers – Repeal Bill 124 and allow collective bargaining to determine wage rates to stabilize the workforce.
Increase the number of front-line employees – provide responsive incentives for the current workforce and re-employment incentives for those who have left.
Relieve administrative pressure – hire new hospital support staff.
Invest in people, not profits – limit the use of private healthcare practitioner offices.
No privatization – commit to investing all new funding in public hospitals.
[ad_2]

Source link