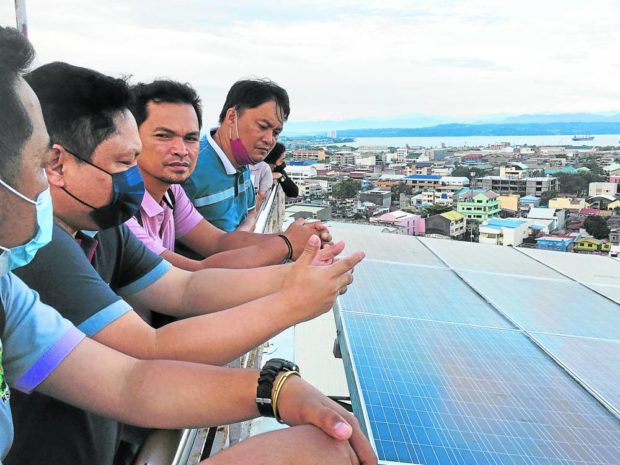 [ad_1]

(First of two parts)
DAVAO CITY, Davao del Sur, Philippines – From the roof of the Blue Building of the Ateneo de Davao University (Addu), Rene Sanchez of Sultan Kudarat City of Lebak looks out over the roof of the next building has solar photovoltaic (PV) panels installed.
Sanchez, a farmer from Lebak town, along with others from the local government participating in a renewable energy workshop, took advantage of the remaining light from sunset to check the announcements. and consider using solar energy at home.
With a population of over 90,000, Lebak, like nearby Kalamansig and Palimbang, is in dire need of reliable electricity supply because these towns are not yet connected to the Mindanao grid. The power plant currently supplies three cities with electricity.
National Power Corp. is controlled by the Small Power Utilities Group. But fuel prices rose to P90 per liter due to the crisis in Ukraine, which added to the company's financial burden.
NPC needed P1.2 billion in additional resources this year so that you can provide uninterrupted power to offshore areas across the country. Before the administration of the government budget, an NPC that was bleeding the budget was forced to cut electricity in August, which led to a 12-hour breakfast in Lebak.
In addition to being expensive, fossil fuels, like coal, emit large amounts of carbon dioxide and contribute to global warming, which can lead to dangerous hurricanes.
Addu engineers encouraged workshop participants to consider renewable energy sources, which are cleaner, cheaper and more sustainable.
Switching to clean electricity is the best option for Mindanao, which was recently hit by powerful typhoons and severe weather that brought floods, landslides and typhoons to communities. Lebak, for one, is still reeling from the devastation caused by the Severe Tropical Storm "Paeng" (international name: Nalgae) in October, with P116 million in damage to agriculture and crops.
The high cost of fossil fuels also provides financial and economic justification for increasing the share of renewables in the local energy mix.
Model making
The solar panels on the roof of Addu University's Finster Hall were among the first things the university installed a decade ago when it began pushing for renewable energy.
"Back then, affordability was still a problem," recalls Randell Espina, dean of the Addu School of Engineering and Technology. "But how can we convince people to switch to clean energy if we have nothing to show for it?"
The project started with the support of Fr. Joel Tabora, the president of the university at the time. Addu installed its first set of 48 solar panels in 2011. Later, it installed another set on two of its campuses, so today, the university has 842 panels in on its three campuses. Altogether, the total capacity is 1 megawatt, in addition to the electricity the university draws from the grid.
Since then, solar has been part of the electricity that lights the university's classrooms and offices, and runs air conditioners, refrigerators, computers and other electronic devices during the day. The university can save up to 30 percent on its electricity bills, according to Espina, which can reach P500,000 to P600,000 per month at P12 per kilowatt-hour electricity cost.
Addu engineers continue to explore other sources of renewable energy. They will literally climb mountains and seas to learn the power of wind, water, tides, ocean waves and biomass technology to generate electricity, according to Nelson Enano, director of the Addu Center for Renewable Energy and Appropriate Technologies.
They didn't stop at solar panels. Addu engineers are also investigating another power of the sun—heat.
Addu is hosting in his Bangkal campus his solar power plant (CSP), his dish is very visible. Unlike PV cells that convert light into electricity in a solar panel, CSP uses mirrors to focus sunlight onto a carrier that produces thermal energy to generate steam that converts electricity into electricity to generate electricity.
CSP research, as well as new marine energies, is being pursued by the Mindanao Renewable R&D Energy Center (MREC), which is funded by the Department of Science and Technology (DOST). MREC is an Addu-led group of universities and colleges in Mindanao that focus on research and development of renewable energies.
The need to understand new energy technologies that are accessible and affordable to local communities drove the research, Espina said.
Local expertise
Espina, who has a doctorate in electrical system engineering, said the country can achieve future global prosperity by building and using these renewable energy technologies locally.
"When we started with solar panels, we knew that the technology was already there, we could sell it, but it was not available locally (because we were not producing) and we did not the same," he said.
"What we really need are experts and technical know-how. If we can't bring an army of experts and technical people to deal with this, nothing will happen to us," he added.
Producing these experts is the reason for the university's doctoral program in Systems Engineering and its Master's in Renewable Energy Engineering, which is the first of its kind in the country, Espina said.
One project proposed for funding through the MREC is the manufacture of PV cells, he said.
"Our plan is to introduce solar cell technology," he said. "The advantage of the site is that we can set the size that we can decide for ourselves and adjust to our needs. We do not rely on what is available in the market.
But the proposal was not approved by the DOST, so Addu focused on CSP and marine renewable energies.
"What's good about having a CSP laboratory is that you know the technology, how it works and what are its limitations, and if it works in our area, if not, what are the solutions and changes to be made," Espina said.
The turning trend
The success of these activities will help to free Mindanao, if not the country, away from the dirty energy, the impact that returns in the climate. but it is also one of the most vulnerable to extreme weather conditions and other impacts of climate change.
Almost a year after Addu installed its first solar panels, Typhoon "Pablo" (international name: Bopha) hit Mindanao on December 4, 2012, with winds of 280 kilometers per hour. . Mindanao, where 1,900 people died and thousands more in a part of the country that was never hit by the typhoons.
At that time, Espina told Fr. Tabora solar panels are ideal for lighting up damaged communities. The expert asked where to find these notices.
"I told him that we had installed some on the roof of the university and to our surprise, he ordered 25 of the solar panels to be taken down and given for the short time to 25 destroyed communities and villages, without power or water," Espina recalled. .
For six months after the hurricane, the messages enlightened these communities, offering hope in the midst of darkness and despair. The announcements were so effective that Addu's engineers asked the Davao City government to include solar energy in its emergency response plans.
After successive typhoons—Tropical Storm "Sendong" (international name: Washi) in 2011, Typhoon Pablo in 2012 and Supertyphoon "Yolanda" (international name: Haiyan) in 2013—experts warned environment to continue using coal to generate electricity because. is contributing to global warming.
Despite this warning, coal-fired power plants mushroomed in Mindanao, encouraged by the government. A total of 2,063 MW of coal-fired capacity was added to the grid, up from only 200 MW in 2006.
As of 2017, the region's energy supply has changed—from reliance on renewables to reliance on fossil fuels, according to Assistant Secretary Romeo Montenegro, the vice president of the Mindanao Development Authority.
Montenegro said Mindanao's power mix is ​​50 percent coal and 20 percent diesel and other fossil fuels, leaving only 30 percent from renewable sources.
"Our electricity supply in Mindanao comes from fossil fuels. Why is it important to us?" he asked. "It is important because the transition to fossil fuels resulted in a 20 to 25 percent increase in Mindanao's electricity rates."
"So, after the pandemic hit our local operations, and the [conflict] in Ukraine, the price of carbon will increase four times, "he said. "Renew the Mindanao grid because at the moment, it is black."
(Editor's Note: The reporting for this story was supported by the Institute for Climate and Sustainable Cities under the Jaime Espina Klima Correspondents Fellowship.)
Read Next
Subscribe to INQUIRER PLUS to get access to the Philippine Daily Inquirer and other 70+ titles, share on 5 devices, listen to news, download as early as 4am and share articles on social media. Call 896 6000.


[ad_2]

Source link